Why us!
DS Software & Web Solutions is one of the leading IT companies which is growing incredibly over a period of time Tally Erp 9 would be your business backbone, We are Certified Partner of Tally Solutions and we gave our clients best to best services in Tally software. Today, our company has a good reputation in customer service and satisfaction. Currently, we enjoy the reputation of being Delhi's leading Tally Software Provider Company with solutions. We understand the need of our customers, what they exactly want and accordingly, we arrange a solution. Today, we have over 3940 customers and growing day by day.Read More
Your bank and pay utility bills from home with Tally ERP 9 that gives you the best way to generate e-way bill on the go with Tally Mobile App it'll help you to access the Tally Accounting Software directly to your smartphone, why not do your business transactions? Or call up a stock status report and print a copy from wherever you are? Tally.ERP 9 has been designed with you in mind, Tally ERP 9 has the advanced features that others software hasn't. Powerful connectivity makes information available with your staff, CA and other professionals, round-the-clock, in any place. It's also quick to install and allows incremental implementation-a novel capability that lets you activate just as many of its functions when required, even across locations. Tally Accounting Software makes your billing experience better with Tally ERP 9
With Trusted Remote Access, Audit & Compliance Services, an Integrated Support Centre and Security management, all focused on delivering peace of mind to You. It is a complete product that retains its original simplicity yet offers comprehensive business functionalities such as Accounting, Finance, Inventory, Sales, Purchase, Point of Sales, Manufacturing, Costing, Job Costing, Payroll and Branch Management along with capabilities like Statutory Processes, excise etc. Whatever the demands, Tally.ERP 9 makes life a lot easier. With an ideal combination of function, control and customize ability built in, Tally.ERP 9 permits business owners and their associates to do more.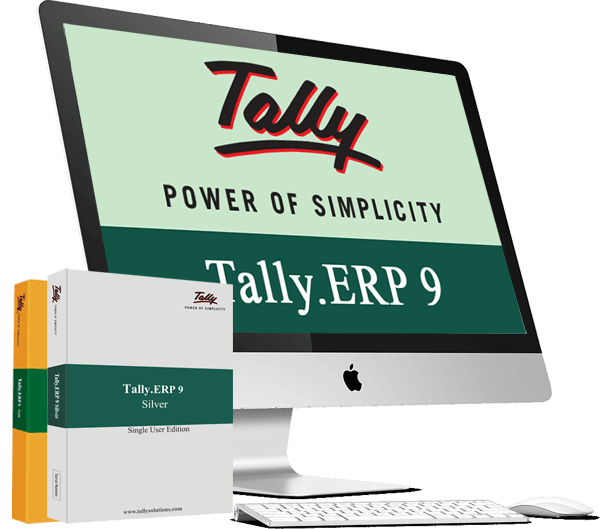 ---
Ideal For Any Kind Of Bussiness
MANAGE YOUR ACCOUNTS EASILY
Tally, as an ERP software adapts to the unique ways of your business whether you want to manage working capital or control inventory. Get a bird's eye view for any topic at any point in time. Drill down to the last detail and view reports before making decisions. We bring the best plans in Tally erp 9 price for chartered accountants, Tally ERP 9 for android. Tally ERP 9 Comes with different types of work:- Tally ERP, Tally GST, Tally online, Purchase return entry in Tally, Tally ERP 9 Book, Types of Tally.
Tally.ERP 9 is a simplified solution that runs the complex parts of your business such as accounting, compliance and processes in the background. Tally is easy to learn and can be implemented with minimum resources.
GROW YOUR BUSINESS WITH TALLY
When you started your business, your needs were simple. As your business grows, these needs become complex. Tally.ERP 9, an ERP Software has the capability to scale incrementally, to fit as per the growing business needs without disturbing any existing set up.
At any instance, you can introduce inventory, payroll, manufacturing, banking, user-level security controls, new compliance modules and more.
MANAGE CLIENT'S DATA IN THE SMARTEST WAY
Transfer your client's data through email, pen drives or any other portable devices. No configuration is required to start working on the data again.
Tally.ERP 9, an enterprise resource planning software, makes the books of accounts of all your clients in one single file, making it easier for you to work from multiple locations. Tally ERP 9 has the advanced feature:- inventory management in tally, tally erp 9 for android, tally gst, excel to tally, payroll in tally, sales entry in tally, tally online, tally ledger, purchase return entry in tally, hsn code in tally, tally software hsn code.
Tally.ERP 9 marks all vouchers in which changes are made. Factor in last minute changes made in data by either you or your clients for filing returns. You can export or import the updated lists with each other for the purpose of updating books.
ACCOUNTING MADE SIMPLE FOR YOU
Keep your business financially healthy. Take the right decisions with up-to-date and accurate reports backed by Tally's inherent error detection and correction capabilities.
Tally.ERP 9, an ERP Software provides simple-to-use accounting features for managing all complex accounting operations of your business. Tally.ERP 9 can also be operated in your preferred language! Tally is easy to learn and can be implemented with minimum resources.
ONE-STOP SOLUTION FOR GST COMPLIANCE
Maintain business data of both VAT and GST regimes in a single company without the hassle to split the data. Get yearly financial reports containing both GST and VAT data at the click of a button.
Minimize the chances of rejection of your GST returns. Error detection and correction capabilities are built into the software. You can rely on Tally to file your GST returns easily, correctly and on time. Starting from creating invoices to filing returns, Tally is your GST compliance partner.
Prepare, record and share data in GST compliant format with your tax consultant. Keep pace with the evolving GST norms with free access to our webinars, product upgrades and training sessions.
KEEP YOUR FINANCIAL DATA SECURE
Keep your valuable financial data safe and secure with TallyVault, and generate the keys yourself. Only you can access the data!
Tally.ERP 9 is a resilient ERP software. Your business data can never get lost or corrupted even in the most unstable work environments.Configure user-level rights for data access based on the area of operation.
KEEP AN EYE ON YOUR BUSINESS ACROSS LOCATIONS
Access business data from anywhere. If you have multiple stores or places of business, or if your business is operated from two or more locations, data can be synchronized using Tally-Tally Sync capability.
Get data from all locations and generate consolidated reports without disturbing operations in any of the locations.
BANKING MADE EASY FOR YOU
Get rid of incidences of errors and other hassles involved in manual reconciliation with banking transactions. Tally.ERP 9 Software offers auto bank reconciliation that will help you save time and avoid errors. Tally ERP 9 Accounting Software made billing seamless using e-way bill generator, Multi Currency in Tally, GST, Financial Accounting with Tally, Cash Sales entry in Tally, VAT in Tally ERP 9, Branch Accounting in Tally, foreign currency purchase entry in Tally, ESI entry in tally, Discount ledger in Tally, GST sales entry in Tally, Bank OCC account in tally, Investment entry in Tally ERP 9, TCS in Tally, Purchase Ledger in Tally, Profit and loss account in Tally, TCS entry in Tally, on Tally ERP 9 for Android
You can print cheques of any bank with payment advice for neater presentation of invoices to your suppliers and clients. Keep a track of all issued post-dated cheque activities. Generate cash deposit slips as well.
TAKE DECISIONS ON THE GO
As your business grows, you need to make faster decisions at the right time backed with the right information. With Tally.ERP 9, you can get instant reports on business outstanding, stock ageing analysis, cost estimates, profitability analysis and other critical overviews at any place, anytime. Tally ERP 9 also available for mobiles Tally ERP 9 for android and Tally for Macbook. Tally Accounting Software gives you the more flexibility of creating e-way bills on the go with mobile app.
You can design your own reports with most advanced filters, comparisons and alteration tools to get to the right detail.
---
GST
Technology-assisted compliance is not an entirely new concept in India. Way back in the 1990s, taxation departments used technology for tax administration. However, this was mainly as a backend mechanism.
Tally Server
Tally.Server 9 prioritizes every request equally, avoiding any queuing of access or modification requests. This is made possible as Tally.Server 9 ensures data access/modification by a user is isolated to his/her own snapshot, thus allowing other users to operate smoothly.
Tally ERP 9
Tally.ERP 9 is an end-to-end solution that factors in all GST related statutory changes as and when required. Tally has been an enabler of business compliance for more than a decade now.
Gold
Unlimited multi-user edition
For multiple PCs on LAN environment
FEATURES
Accounting Management
Interest Calculation
Cost Centres and Profit Centres
Multi-currency
Balance Sheet and P&L
Cash and Fund Flow
Bank Accountingt
Cheque Management
Bank Reconciliation
e-Payments
Gold multi-user edition
Rs.51600* + GST
Silver
Single User Edition
Generally refers to an edition of Tally ERP 9.
FEATURES
Accounting Management
Interest Calculation
Cost Centres and Profit Centres
Multi-currency
Balance Sheet and P&L
Cash and Fund Flow
Bank Accountingt
Cheque Management
Bank Reconciliation
e-Payments
Silver Single User Edition
Rs.17200* + GST
Auditors' Edition
CA multi-user edition
For multiple PCs on LAN environment
FEATURES
Audit Programme
Audit Working Papers
Analytical Procedures
Multiple Sampling Methods
including Benford Analysis
Schedule VI Financial Statements
Verification of Opening Balances,
General Ledger Analysis/Scrutiny
Repeated Transactions
Periodic Payments & Receipts
Relative Size Factor (RSF)
Audit Journals
Tax Audit – Form 3CD with Annexure,
Form 3CA & Form 3CB
Auditor Edition multi-user edition
Rs.35100* + As per GST applicable